Please read thoroughly. 
Who it's for?
Boulder vicinity middle school, high school and college students who struggle with school & Executive Function.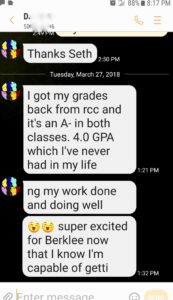 How it works?
The purpose of coaching is to help a student create change that matters. Local in-person coaching is by far the very best way to help. This means changing habits, mindsets, solidifying effective systems, and more. I stay in close contact with you and your child throughout the semester. There are 5 main components included in this program:
Office sessions: This is where students, and sometimes parents, meet with me at my office. Students attend sessions on a regular basis, 2-4 times a week for support. There are many benefits to the office sessions: I help with Homework, accountability, routines, advocacy, organization,
Systems – I teach all of the systems and mindsets necessary in weekly lessons adn 1:1.
Online course – As an in-person local client, you will also have full access to my UGYG semester long online course, which is packed with fantastic lessons for students and parents, that teach my methods.
1:1 Coaching – Each night I spend quality 1:1 time with each student dealing with urgent matters first, teaching new techniques for studying, organization, time management, etc. This time is tailored and personalized to the individual. I push the kids beyond their comfort zones so they can practice what I am teaching them about succeeding in school.
Home Visits – I do 2-3 home visits with students, primarily to help with the creation and maintenance of an intentionally designed Sacred Study Space.
Text, Phone, Zoom support –
Parent Support
Where?
My Office: Students are required to attend to 2-3 sessions a week at the office near 63rd and Valmont Road. Here's a map.
Home Visits: I generally do 2-3 home visits for you each semester to help with the Sacred Study Space or other major organizational projects that are relevant to your child and you.
Other: Occasionally I meet with students or parents at other places, coffee shops when it makes sense, or at the school for any relevant meetings with schools.
When?
Here are the relevant times you will want to be aware of when considering this program:
Spring semester 2019 – Coaching lasts throughout the entire semester. My clients are my priority, so as long as we plan, I am available on weekend, breaks, during school hours, after school, or any other times when students need support. Remember, these are students who are often in a bind, so I often help with last minute
Sunday Nights, 6-9pm – SNG: Sunday Night Group, Required for all students, 6-9pm at the office. Sunday nights are required and you must be there by 6 pm sharp (5:55 for those who are always late!) Sometimes I stay late if a student needs it.
On Sunday nights, we start with a group check-in at 6 pm. Each per
Home visits: We will need to plan 2-3 60-90 minute times during the semester for home visits. This is flexible, and we want to space them out so you get teh most from them.
What's included?
One full semester of in-depth coaching and support for your child and you, the parents.
Parent support, parent days and parent 1:1 sessions.
Supportive contact with your child via text, phone, and zoom to help with reminders and encouragement (parents appreciate this because the students often cannot or will not receive the help from their parents)
Tutoring – I tutor in all subjects and have a fantastic math/science tutor on-hand at the office. The tutor also does home visits when needed.
BONUS: SAT ACT Session – I have an SAT ACT expert who is doing a 2-hour in-depth live workshop for you and your child to teach you everything you need to know about the SAT and ACT prep and success
How do we start and what's the price?
There are just 10 spots for the spring 2019 semester and enrollment is on a first come, first served basis.
Spring 2019 Program Option 1: 3 payments of $1500
Spring 2019 Program Option 2: 1 upfront payment of $4200 (save $300)
Payment #1 is due by Jan 15, 2019. Checks payable to ShineOn Educational Solutions. I also accept other forms of payment upon request.
Deposit: If you want to ensure you have a seat, you may make a $1500 deposit (the equivalent of the first payment) at any time. My program fills up quickly, so this is a good option if you want to make sure I work with your child.
If you want to set up a free 30 Minute Meet & Greet to see if this program is a good fit, please use the form below: