Please CLICK above to share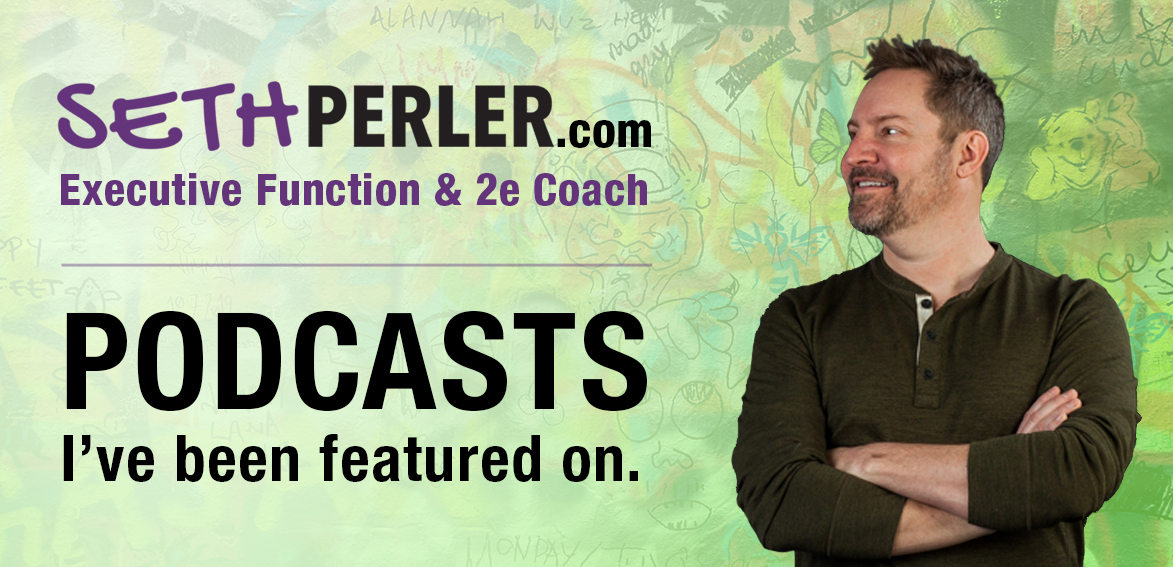 Hi all. Here's a list of the podcasts I've been featured on. Clicking the link will take you to a page with complete details. -Seth
ps- If you have a suggestion for another podcast I "should" be interviewed on, please feel free to recommend me to them or connect us personally. I love podcasts.
TILT Podcast: Here are 2 AMAZING new podcasts with Debbie Reber from TiLT Parenting Podcast: Things you'll learn include why our kids resist in the first place, the connection between executive functioning and resistance, and much more!

Faster Than Normal Podcast with Peter Shankman:

 I was recently featured on Peter Shankman's podcast and we discussed my personal ADHD story.

Executive Function Masterclass: TILT Podcast with Debbie Reber:

 Includes the new EF Masterclass Podcast 1/2 and 2/2, as well as a freebie Executive Function Assessment.

Self-Advocacy with Adrianne Meldrum: from the 

Math For Middles website and On Middle Ground podcast

, recently had me on her show to talk about self-advocacy.

TILT Parenting Podcast with Debbie Reber on Executive Function: Recently Debbie Reber interviewed me about Executive Function on her podcast, TILT Parenting. This is my FAVORITE parenting podcast and I definitely recommend subscribing!


7 Systems Outside-the-box Learners Desperately Need

: An interview by Jennifer Gonzales, Includes PDF assessment to see the systems your students has in place.

5 Action Steps to Help Your ADHD Child: Here I go over 5 specific steps to take regarding how to best help your ADHD child with school.

Education on Fire: with Mark Taylor

How to Help Kids Who Struggle with Executive Function Skills in Highschool: I was interviewed by Dr. Robyn and discussed EF challenges experienced in highschool.

Debbie Reber Shares her Wisdom: Recalling interviews with countless people who dedicate their lives to differently wired kids.


Dear Teachers: TILT Podcast with Debbie Reber:

 

This podcast targets teachers, but is still helpful for parents.

2e Learners Podcast with Stephanie Pitts & Rachel Kapp: Educational therapy.

EF & Parenting Podcast with Wendy Bertagnole: on executive function for Exceptional Parenting.

Parenting ADHD Podcast with Penny Willians:

Less Is More – Helping Your Child Navigate Life with ADHD.
Mind Matters: Executive Function – What You May Be Doing Wrong.
Success is Subjective: Joanna Lilley interviews me about executive function and college. Success is Subjective is dedicated to all things related to emerging adulthood stories and therapeutic resources for young adults.

On Boys Podcast:

Executive Function: Janet Allison, Jen Fink, and I discuss how to help boys with EF challenges.
---
🎦 YouTube: Visit my official YouTube channel here. Subscribe, like & comment to support my work.  
👉 Share: To support me, please *CLICK* below to share on FB or Pinterest.
✏️ EF101: Here's my jumpstart course for parents and teachers.
💚 Give: Love my work and want to donate?
🙏 Thanks! — Seth