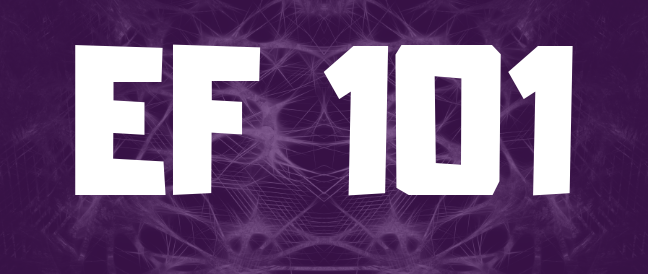 "Seth, I've always said if I could just get inside my kid's brain for one day… Your course let me "in."  I was in tears during several parts of your course. Thank you for all you do!  You are truly appreciated.  Parents need this as we navigate the journey of raising our most amazing 2e kiddos!" – Kaitlyn S.
Hello from Seth. For years people have been asking me to create a course like this and here it is. Enjoy.
What is EF101? EF101 is a crash course all about how Executive Function challenges can impact students and how adults can help. It includes:
Extensive video course with 45 key video lessons (see outline below). There are 3 core modules: One for

all

adults who want to learn about EF, one for

parents

and one for

teachers

. What's unique about this course is that I designed it with the intention that 

all

participants to go through

all

lessons. This way you will get a 360 view of EF. You'll know what insights I have for teachers and what insights I have for parents. Having a more complete picture will empower all of you to better serve the kids you are trying to help.
Downloadable and printable support PDFs to help you along the way.
Homeworks to help you get more out of the course.
30-day 100% money-back guarantee.
Who is it for? Compassionate, involved and proactive parents, educators and other professionals interested in EF. If you're looking for a coaching course designed FOR students, not adults, see UGYG, Upgrade Your Grades.
What will I learn? EF101 will give you a fantastic little foundation in EF. It's an excellent crash course. You will walk away feeling like you are in a MUCH better position to help students. You will feel confident in your understanding of EF and will feel much more solid about the decisions you are making about how to support students. See outline below or video above.
When can I take it? Take EF101 any time you want. You do not have to wait for the beginning of a semester. It is self-paced.
How long will it take me? If you like to "binge-watch" lessons, you can go through it in a few days. If you take your time, it may take 2-3 weeks. You will need 5-10 hours to focus on the course, depending on how deep you go with the homeworks. I included a lesson that helps you pace yourself.
Can teachers get credits? No, but I can send you a certificate of completion if you want one.
Who is it NOT for? This is not for people who are looking to learn my in-depth coaching methodologies. This will not teach you all of the systems and strategies I use with clients – that is outside of the scope of this course. It's also not for people who want a sterile, passionless, dry, quick fix, shallow course created by a boring person.
How long do I have access to EF101? Lifetime access. I have no intention of ending access ever, and you can download all of the lessons and keep them indefinitely.
How do I get started? To buy, click a purchase link from this page and enter your credit card info. It takes about a minute and you get access immediately. After you purchase, you will get an email to login. Next, start with the first lesson. I lead you the entire way through.
Is it worth it? Yes. You'll walk away from it feeling empowered and enlightened about Executive Function. There is nothing like it that I know of, and I designed it carefully so it makes a big difference for you. If it doesn't work for you, I will refund you.
What links will I want to bookmark?
Here's your login page >>> https://sethperler.com/login/
Here's a backup link to login >>> https://sethperler.com/member-home/
Here's the direct link to the course >>> https://sethperler.com/ef101/
Can I share it with people? Yes with a spouse or family member. No with friends or colleagues, please. This is my livelihood, my passion, and my life's work. I've spent over 2 decades developing my methodologies, countless hours behind the scenes building this course, putting together the crazy number of moving pieces, spent money on software, hardware, websites and numerous trainings to improve my ability to help families. Thank you for honoring my work.
Is there a guarantee? Yes, if it's not right for you for any reason, I'll refund you 100% within 30 days.
What if I legitimately can't afford it? I get it, email me and we'll go from there.
---
EF101 Course Outline
MODULE 1: Start Here
41 min + time for homework
M1 Lesson 1: Start Here: How EF101 works.
Video 1: How EF101 works: A tour and tips for getting the most out of EF101.
Video 2: Background to help set the stage so you can get the most out of the course. This includes my philosophy and where I'm coming from ideologically.
Video 3: What you'll learn in EF101.
Video 4: How to pace yourself through the course.
M1 Lesson 2: My Story
Video 1: My Story – about my EF struggles, how I learned to work with them and how I started helping kids who struggle with EF.
MODULE 2: What is Executive Function?
1 hr 45 min + time for homework
M2 Lesson 1: What is Executive Function?
Video 1: The Basics of EF, how to have a bird's eye view
Video 2: Why we don't know about it?
Video 3: Two types of adults
Video 4: EF and the brain
Video 5: My Iceberg Theory, how to be aware of the influences beneath the surface
Video 6: Does a diagnosis matter? how to know when it does and doesn't
M2 Lesson 2: Students and EF Problems
Video 1: What is the purpose of education? The Latin root "Educare"
Video 2: Resistance and The Nervous System, Why students resist doing things that need to get done?
Video 3: Can't vs. Won't. Why are so many adults confused?
M2 Lesson 4: Shame Game & Motivation Lie
Video 1: The Shame Game
Video 2: Aspect 1- Emotional Regulation & Dysregulation, how emotions impact EF
Video 3: Aspect 2- Working Memory, Forgetfulness, Missing Details
Video 4: Aspect 3- Inhibition & Impulsivity
Video 5: Aspect 4- Self Reflection, how metacognition helps
Video 6: Aspect 5- Processing Speed
Video 7: Aspect 6- Focus, Concentration, Attention vs. Distractibility
Video 8: Aspect 7- Organization
Video 9: Aspect 8- Time Management, Prioritization
Video 10: Aspect 9- Planning
Video 11: Aspect 10- Motivation
M2 Lesson 5: Blueprint For How To Help
Video 1: Blueprint for how to help students who struggle with Executive Function
MODULE 3: Parents
23 min+ time for homework
M3 Lesson 1: What Parents Need To Know
Video 1: Keep Your Eye On The Prize, how to focus on the "right" prize
Video 2: How Much Do We Put On Kids' Plates, how to know when it's too much
Video 3: What Parents Say? how parents get stuck in the same old patterns that don't work
Video 4: Advocacy, how to advocate for your child most effectively
Video 5: My Kid Never Listens To Me! how to know you're not alone and how to improve the situation
Video 6: Meds, Medication, how to consider if medications are right in your situation
Video 7: What is Modeling, and why is it so important?
MODULE 4: Teachers
17 min + time for homework
M4 Lesson 1: What Teachers Need To Know
Video 1: Keep Your Eye On The Prize, how teachers can focus on the more important things
Video 2: Mistakes Teachers Make
Video 3: How to Help Kids Get Work In
Video 4: How to Differentiate Creatively
MODULE 5: EF Toolkit
30 min + time for homework
M5 Lesson 1: Tools for All Adults
Video 1: Tools for ALL Adults
Video 2: Your Own Deep Inner Work
Video 3: 3:1 rule, how to "motivate" students
Video 4: Wait Time, how to listen more effectively
Video 5: Holding Space, how to create secure relating
Video 6: Mirroring, how to attune
Video 7: SNO Concept, how to keep the momentum going
M5 Lesson 2: The Most Important Thing
Video 1: The Most Important Thing. Ever. How to keep your focus on the most important thing you can do for any child you're trying to help.
---
Testimonial: