Here's a guest post by Adrianne Meldrum of Math for Middles! Adrianne is an amazing online math tutor, mom and friend. I've always been impressed by her talent, knowledge and the heart she puts into her work. Enjoy! (ps-check out her site here. She has plenty of free resources to help AND a phenomenal podcast.)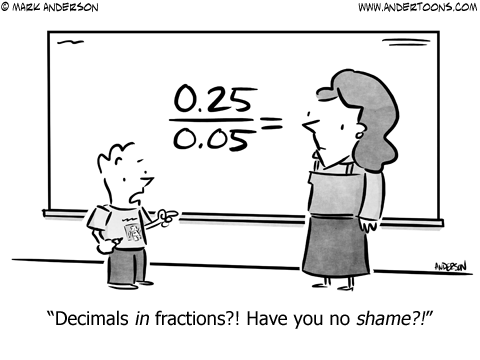 When your adolescent was in elementary school, you had a general feeling that math was going well. No big issues that seemed to cause alarm in the teacher.
Fast forward to now and math seems to be this constant struggle for many teens. Let's explore the six most common math issues that plague teen students.
1 – Spotty Recall of Math Facts
As a math tutor, I find myself sitting in silence for several minutes as I wait for my students to compute math facts in their head or on paper.
Math facts are the building blocks to speaking the language of math. Without being able to recall math facts or have a strategy to figure it out, your brain energy is spent trying to grab that information or punch the numbers in the calculator when really it should be focused on learning this new math information coming in.
This doesn't mean that we start running our children through flashcards to increase their recall.
The real problem? The student doesn't have an adequate number sense.
The goal is to create a brain that can be flexible in using numbers. If a student can't remember what 7 x 8 is, do they understand that they can go to another set of numbers such as 8 x 6 and then add 8 more?
Memorization and strategies are essential to recalling math facts.
Jo Boaler shares, "Brain researchers have studied students learning math facts in two ways – through strategies or memorization. They found that the two approaches (strategies or memorization) involve two distinct pathways in the brain and that both pathways are perfectly good for lifelong use.
They concluded that automaticity should be reached through understanding of numerical relations, achieved through thinking about number strategies.
The core of mathematics is reasoning – thinking through why methods make sense and talking about reasons for the use of different methods." (Boaler, 2013)
What you can do about it NOW:
Apply the ideas in this article: 15 Fun Ways to Master Math Facts in the Middle School Years
2 – Fraction Panic
Over the years, I've noticed that many of my students feel confident and can move through their homework at a decent pace until they see…
Many students get tripped up because they have been taught gimmicky tricks or ways to remember how to manipulate fractions.
"Ours is not to reason why, just flip and multiply."
These tricks hurt students in the long run as they do not truly understand how fractions work. Fractions are everywhere in math but often in disguise.
Students don't understand that fractions are part of these concepts too:
Decimals
Percents
Ratios
Proportions
Polynomial Division
And that's because fractions are just division.
What you can do about it NOW:
Read and learn the 3 Essential rules for Fractions.
3 – Symbol Overwhelm
Equations with variables, parentheses, brackets and such can look overwhelming when we don't understand their use and in what order we should tackle a problem.
These symbols are tools and allow us to work efficiently.
A variable is a placeholder for an unknown quantity, in algebra we're often left searching for the value of x.
Parentheses and brackets are grouping tools. They tell us: "think of this set of numbers and/or variables as one quantity or group" It should trigger in the student that I need to pay attention to what is inside of these brackets.
Exponents are a shorter (more efficient) way to show repeated multiplication.
When we have all of these combined together, it can cause overwhelm. Having a consistent place to refer to can help when it gets hard. Use the link below to help.
What you can do about it NOW:
Review How to Use These Symbols and in What Order with Math Antics
4 – Attention to Detail
Many students omit small items that lead to points lost which bring decent math test grades down.
Details often overlooked are:
Identifying units in their answer
Not answering all of the questions in the word problem
Skipping labeling diagrams
These details seem unimportant to many students, but teachers know that they are essential to learning math.
What you can do about it NOW:
Read this article about attending to details in math
5 – Poor Note Taking
Many students just don't know where, to begin with math notes, nor do they see the benefit. I'm sure you are noticing a trend in the math classroom towards no textbooks. As a parent that grew up using textbooks, this is tremendously frustrating. Add to that the common core way of doing math and you've got a real mess on your hands.
Taking math notes the right way will help the information being shared during class become more brain sticky. When you listen to new information, apply your own processing to it, and then write it down–you're creating connections inside of the brain. Our brains are wired to try to make sense of things. Taking the time to write and draw examples makes learning more sticky.
The other important concept that needs attention around notes is to actually open them up and apply them to homework. Anytime I tutor and a student asks me a question, I'll say to them, "What do your notes say?"
If there are no notes to even refer to, we'll do the research together and I have them write it down.
When your child plops down in their chair to tackle homework, have them pull out their notes. This becomes their pseudo textbook for the class.
What you can do about it NOW:
Learn how to take brain-sticky notes and teach your child.
6 – Resistance to Math in General
Most likely you've got a child that pushes back and avoids math like I avoid smelly Brussel sprouts!
Sadly, many students have turned off from math altogether because they've believed this misconception:
Strong math students are fast math students.
WRONG!!!
Jo Boaler, a world-renowned math professor tells stories of very gifted and VERY slow mathematicians.
Your speed has nothing to do with how awesome you are at math.
That's one of the things many of my student's like about me:
I don't do complicated math in my head (I have to write it down)
I make mistakes and own up to them
I use math notes too
We're all human and this misconception that there is only one way to do math which is fast and without error is just silly. We make mistakes.
What can you do about resistance NOW?
Warm-ups
When I'm switching from one type of task like writing to math, it takes awhile to change gears and get going. This makes sense as different parts of the brain are used for those different tasks.
Math warm-up activities allow the mind to relax and lower the stress of working on math. It also creates a safe environment for practice and focuses the mind. Messing up during a game isn't nearly as frustrating as it is with a homework problem. The games should be easy and mostly review.
Spending time warming up the brain for 5 minutes doing low-stakes math like Sudoku, Pyramid Solitaire (a personal favorite), or Spiral.  There are tons of ideas in a general search on Google.
Reframe Teacher Feedback
Often student's feel defeated when they get a test back and filled with red marks. They feel like they can't change the past and in turn, decide that they are NOT good at math.
When your adolescent comes home with a test that has marks all over it, this is the time to reframe the test.
A test is just feedback. It is not an indicator of your potential as a person.
When students first start working with me, they often will bring a graded test in distress and pronounce, "I just totally don't get ANY of this". Usually, this is the furthest from the truth. When I look at the test, I see small items being missed (see number 4 above).
When I spend time helping students identify where they went wrong, they see that in all actuality they did have it down but a calculation went wrong or they left some details out.
Seek Help from a Neutral Party
Emotions can run high when you feel like you're repeatedly failing math. Not only does resistance set in because the brain wants to protect you from this uncomfortable pain, but it can be difficult to tackle math when your relationship is strained with parents.
Plus there may be an underlying learning issue from attention problems to dyscalculia (math dyslexia).  Getting assistance from a trained professional always helps.
Try implementing a few of the ideas in this article and you'll be well on your way to finding relief from these common math plagues.
Adrianne Meldrum has been tutoring math to middle and high school students since 2006. She's trained in multisensory math and knows how to help students with learning differences make the leap from math-frustrated to math-confident.  Watch her free homework drama class.