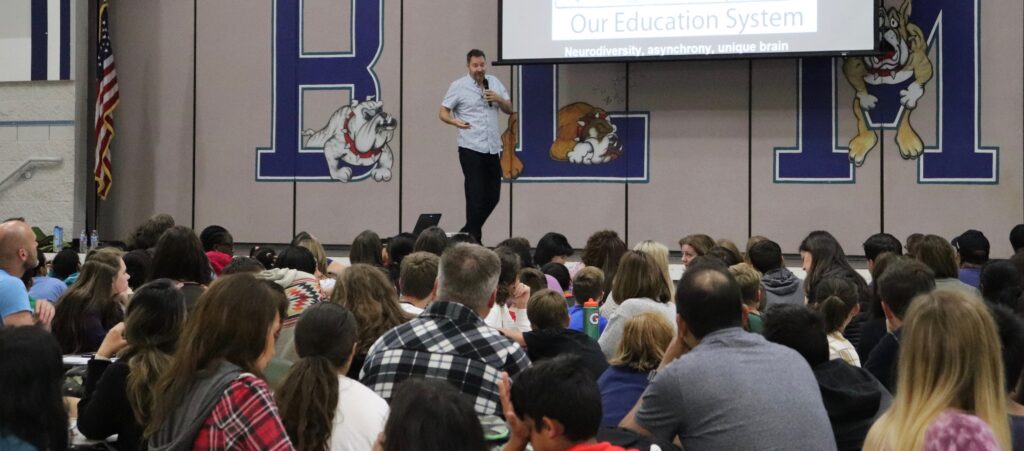 "Seth Perler is one of STEAM Fest's highest-rated speakers. His engaging style and research-based information will help you work with children of all ages (and maybe even some adults), to conquer the executive function frustrations."
"We rarely ask a presenter if they would like to return the following year so we don't overwhelm them with requests, but feedback from parents had a resounding theme of asking for your return, a "Part 2" or continued "in-depth" session to deepen skills to help their kids with EF – you received amazing feedback." – Heritage Adoption Camps
"What makes Seth a captivating speaker is his ability to relate to his audience on a deeply personal level. He understands the students and parents that he serves to the core – their daily struggles, their feelings, and their needs. Seth has a gift for taking the complex issues that families face and breaking down the solutions into bite-sized, concrete, and actionable steps that they are excited to take.  Most importantly, Seth takes the guilt, shame, and judgment out of the conversation about school and helps parents both relate to and support their kids in a way that strengthens their relationship." -Yulia Rafailova, Los Angeles, CA
"Seth is a dynamic speaker.  He transfers his passion for developing executive function right to you.  He gives you take home tools you can start to use with your student right away, so they can have a better process for working through school." -Courtney Elizabeth, Broomfield, CO
"Seth is a fantastic and wildly ENGAGING speaker, and his passion for educating parents, teachers, and children about Executive Function is inspiring. He's able to take what seems like an impossible and frustrating "disability," and show what a true gift it can be when children and their parents are properly informed and supported. Most importantly, he gives incredibly powerful tips, tricks, processes, and systems for success, no matter where you or your child are getting hung up. Seth is real and authentic, sharing his own experience transparently as a foundation for others to succeed." – Stephanie Zamora, Grand Junction, CO
Overview
My goal is to serve. I create dynamic presentations that offer practical insights in plain English rather thank overly clinical language. I speak about addressing the needs of complex, struggling students:
How to help students who struggle with Executive Function and
How to support 2e / Twice-exceptional learners.
I commit to a limited number of talks each year in Boulder, CO and sometimes travel for speaking engagements. To request a talk, please use the form at the bottom of this page, which includes details about fees. Please be patient because I go through all of the new requests once a quarter.
Audiences
Parents (Parent groups, PTAs, parents of 2e or gifted learners)
Conferences for Teachers and/or Parents
Teachers (Inservice training, staff development)
Student groups
Therapists and other professionals/specialists
Topics
Executive Function
2E, Twice Exceptional, Gifted and Talented learners
Emotional regulation, anxiety, stress and the brain
Studying, homework, unconventional approaches to student success
Motivation, procrastination, resistance
Focus, concentration, attention
ADHD, Attention Deficit Disorder or Executive Function Disorder
Atypical, neurodiverse learners
Parenting, relationships, attachment theory, polyvagal theory
Titles of some past talks
Executive Function talk for parents – How to help your child succeed in school/life when you too struggle with organization, time management, homework, studying, responsibility, motivation, focus, etc..
Habits for Middle School Success – A hands-on workshop for parents & students both which teaches about Executive Function and how to build the systems needed for student success.
Resistance and Relationship – How to help your child move through unhealthy resistance while strengthening the relationship.
Executive Function Workshop for Parents of 2e Gifted Learners.
B2S42E – Back 2 School for 2E (twice-exceptional) – A special back to school workshop for families of 2E students.
Teaching and Parenting the 2E Child.
Adoption & Executive Function, Heritage Adoption Camps – Discussion of the unique issues adoptive families are working with and how they relate to Executive Functioning.
The Middle School Brain (talk for middle schoolers).
Executive Function and how it affects the unique quirks of our gifted learners.
Aspergers and Executive Function: How best to help.
Upgrade Your Grades Parent Workshop – How to turn a rough start into a successful semester.
I have done workshops for
Gifted conferences
Makers fairs
Adoption organizations
Adoption camps
Teachers of students on the autism spectrum
Teachers of students with ADHD
Adults with autism and Aspergers
Parents of foster children who have experienced trauma
Parents of struggling students in the community
Gifted and Talented Parent Groups
Entrepreneurs, solopreneurs and makers/creatives
Public talks to families interested in Executive Function
Some groups I've presented to
ParentWiser Seattle Parent Education Group
BVGT Boulder Valley Gifted and Talented
The Rocky Mountain STEAM Fest
The Beyond Giftedness Conference
SAGE – Summit Advocates for Gifted Education
Heritage Camps for Adoptive Families
You can also hear me on numerous podcasts, look up Seth Perler in your favorite podcast app.
Click here for the speaking contact form